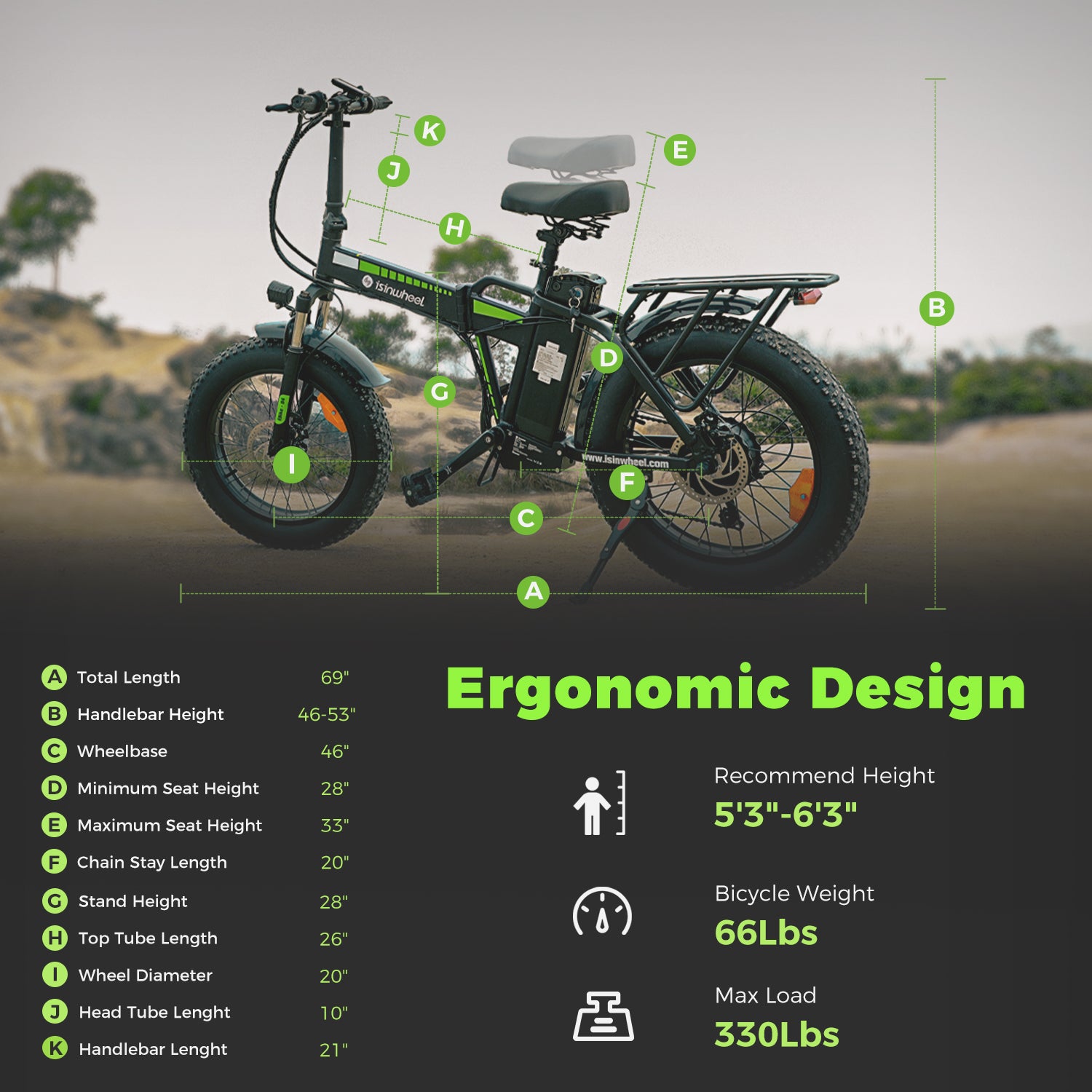 Isinwheel D4 Fat Tire Electric Bike
Regular price
$899.00 USD
Sale price
$899.00 USD
Regular price
$1,099.00 USD
Buy any 2 E-Mobility Devices Save 5% with code: SAVE5
Estimated Delivery:Sep 29 - Oct 03

Free Shipping: On all orders
SPECIFICATION
Battery

720 Wh

Range

39-55 Miles per charge (estimate)

Max Speed

28 MPH

Motor

500W (750W Max Power)

Wheel Size

20 Inches

Water Resistance

IPX4

Charge Voltage

100-240V/3A

Charge Time

7 Hours

Operating Temperature

-4°F-140°F

Net Weight

66 Lbs

Product Dimensions

67.7*25*49.6 IN / 172*63.5*126 CM

Package Dimensions

 57.5*13.7*28.7 IN / 146*35*73 CM
PACKAGE INCLUDED
SHIPPING INFORMATION
🚚Shipping- Free shipping on all orders to the United States, 2-5 business days delivery time.
💝 Return & Refund Guarantee- 30 Days Money Back & One Year Warranty.
📞Customer Support- Please email to support@isinwheel.com. Our experts will reply within 24 hours.
FAQS
Q:What is the top speed of this electric bike? Reach 20mph?
A: If you remove the speed limiter on settings, the top speed can reach 28 mph, and it also has cruise control.
Q: Worth it to buy this bike?For commute purposes only? I'm planning to buy this bike
A: The D4 electric bike is designed to be foldable. This e-bike can be easily folded and stored into the trunk of a car or bring it into the subway, making it the best commute and travel companion.
Q: Will a different seat fit? Will different handlebars fit? Keeping the bike still foldable?
A: The handlebar and seat height of the electric bicycle can be adjusted. Minimum Seat Height: 28'' and Maximum Seat Height: 37''. Recommend Height: 5'3''—6'3''. The electric bike can still be folded after adjusting the handlebar and seat.
Q: Can the battery of this electric bike be removed for charging?
A: The battery of this electric bike is detachable and you can remove it from the bike and charge the battery in your house. It is easy and convenient.
Q: Is this electric bike easy to assemble?
A: Thank you for your attention to our electric bikes. Ebike arrives 90% pre-assembled to eliminate the hassle of installation. In addition, the tools required for assembly are provided in the package. You can check the tutorial video here: https://www.youtube.com/watch?v=sGsE2i0DRPk
Q:It comes with the front and rear fenders?
A: The D4 electric bike comes with front and rear fenders and Rear Rack. No additional purchase is required.

Q: Is the electric bike powerful?
A: Our electric bike for adults features a 500W (MAX:750W) high-speed brushless rear hub motor and 85Nm of torque for strong climbing power.

Q:What is the rider height range?

A: The handlebar and seat height of the electric bicycle can be adjusted. Recommend Height: 5'3''—6'3''. This ebike can meet the needs of different people in the family.

Q: Is the bike for two people?
A: The D4 electric bicycle has a rear seat frame, and you can install a seat or a basket according to your needs. It can meet a variety of different needs, allowing you to achieve a multi-purpose electric bike.
Q:Where can I buy the replacement?
A:There are lots of accessories for the bike in the stock, including the motor, battery, tires, front light, led light, pedal and so on. Any need, please contact the customer team. Thanks for your support
500W Brushless Motor
The Stronger brushless motor has a max power of 750W which helps you conquer even the most rugged terrain easily. providing you with the smoothest, more exciting and effortless riding experience
500W
Rated Power
28MPH
Top Speed
Superior UL-CERTIFIED Battery
With a built-in battery design and IPX4 waterproof rate. you can even use this bike on rainy days. A 48 V 15 Ah battery to power your ride up to 55 miles.
55 MILES
RANGE
720WH
MAX
BATTERY CAPACITY
Adjustable Dual Suspension
Equipped with a dual suspension system, absorbs most jarring bumps and shocks when riding, and provides a smoother riding experience on all surfaces
Foldable Electric Bike
The foldable and portable design make the D4 ebike easy to carry and first stock into any compact space, such as apartment, subway, and car truck.
Get Some Inspirations
| | | | | | |
| --- | --- | --- | --- | --- | --- |
| | U2 Black | U2 White | D4 | Cycknight | Cycfree |
| Motor(Rated Power) | 350W(MAX:500W) | 350W(MAX:500W) | 500W(MAX:750W) | 500W(MAX:750W) | 500W(MAX:750W) |
| Tires | 26" Tires | 26" Tires | 20"x4" Fat Tires | 20"x4" Fat Tires | 20"x4" Fat Tires |
| Maximum Load | 264 lbs | 264 lbs | 330 lbs | 330 lbs | 330 lbs |
| Product Weight | 60 lbs | 60 lbs | 66 lbs | 66 lbs | 83 lbs |
| Maximum Speed | 20 mph | 20 mph | 28 mph | 28 mph | 28 mph |
| Maximum Range | 45 miles | 45 miles | 55 miles | 65 miles | 75 miles |
| Battery | 36V 13AH(UL-certified) | 36V 13AH(UL-certified) | 48V 15AH(UL-certified) | 48V 12.5AH(UL-certified) | 48V 20AH(UL-certified) |
| Gears | 7-Speed Shimano | 7-Speed Shimano | 7-Speed Shimano | 7-Speed Shimano | 7-Speed Shimano |
| Suspension | Front& Seat | Front& Seat | Front Fork | Front& Seat | Front Fork |
| Recommended Height | 5'3"-6'3" | 5'3"-6'3" | 5'3"-6'3" | 5'3"-6'3" | 5'3"-6'3" |
| Price | $799 $619 | $799 $619 | $1099 $899 | $1099 $799 | $1299 $1099 |
Super Electric Bicycle!
This electric bicycle is one of the best purchases that I have made. I have miles of hiking and biking trails near my house and this Isinwheel D4 just eats them up. I typically ride about 5 to 6 miles each ride and the battery hardly moves off of 100% charge. It's sportier looking than most of the other bikes, goes up to 25 MPH if you dial up the speed settings and is really a hoot to ride! Isinwheel Direct shipped my bike very quickly and it was packaged extremely well. I would not hesitate to recommend this bike to others, and I would buy it again!
Long battery life
These E bikes are great. Long battery life. Comfortable to ride. Easy assembly. Would recommend.
750 W motor and foldable, This is a fantastic commuter bike.
My work is about 5 miles away, which is just right for a good morning workout commute to work. This bike is foldable so I can easily transported or throw it in my friends trunk on the way home. The batteries are movable also so if I want to go mountain biking, I can take it off and have a lighter ride. There's dual suspension so it works in just about any environment and has Shimano seven speed gears. the fat tires, allow me to write it next to canals and not worry about a flat. This is very comfortable and supportive and one of the better E bikes I've seen out there.
Great Bike
Having a 500 Watt (750-peak) motor, it's able to handle some relatively steep hills. It exceeded my expectations. I love this bike!
Powerful
One of the benefits of a foldable electric bike is jtz portability and easy to storage. With its compact size, this bike can be easily stored in a small space, making it a good option for those with limited storage space. In terms of performance, it listed on the web for 750w, but it may only go up to 500w but it is still powerful enough to prove a top speed of up to 20-25mph. And the 48v 15ah removable battery offers a range of up to 60 miles on a single charge. This makes it suitable for longer rides or commuting to work or school. Overall this bike for adult appears to be a solid choice for those looking for a foldable electric bike with fat tires and front and rear suspension.
Isinwheel D4
The Isinwheel D4 e-bike is a slick design folding bike. It offers everything you want from speed, looks, easy storage, comfortable ride and long distance riding. This bike offers a good package at an affordable price. I highly recommend it for your needs of riding. It is to add all the additional accessories you want or need to make your ride more enjoyable and safer when on trails or group rides.
Really great bike and price.
Really great bike and price. First venture into an e-bike so didn't want to spend $2-3k. This was under $1k and worth that price. You can find them less but the fat tires are awesome. Not everyone would want a fat tire but at least get a 12.5 amp battery or higher. You'll be glad you did. The battery lasts a long time especially if you ride manually and only use the pedal assist when needed.
Isinwheel D4 E-Bike
The bike arrived very well pack with tons of protective foam inside the box. Very easy to assemble. Only had to adjust the front brakes but not a big deal. After charging up the battery pack, it was off and riding. Then notice that I had to slightly adjust the gears. No problem again because the bike rides very good and fast. Isinwheel bike is faster than my wife/granddaughter bike's. This Labor Day weekend will be the real ride. Going to go trail riding and test the distance out on the battery.highly recommend buying this bike. No regrets.
Very fast
This bike beat my idea of what i expected. Very nice bike that last a long time for miles and is fast! Has a loud horn for saftey and a bright led light! A must buy!