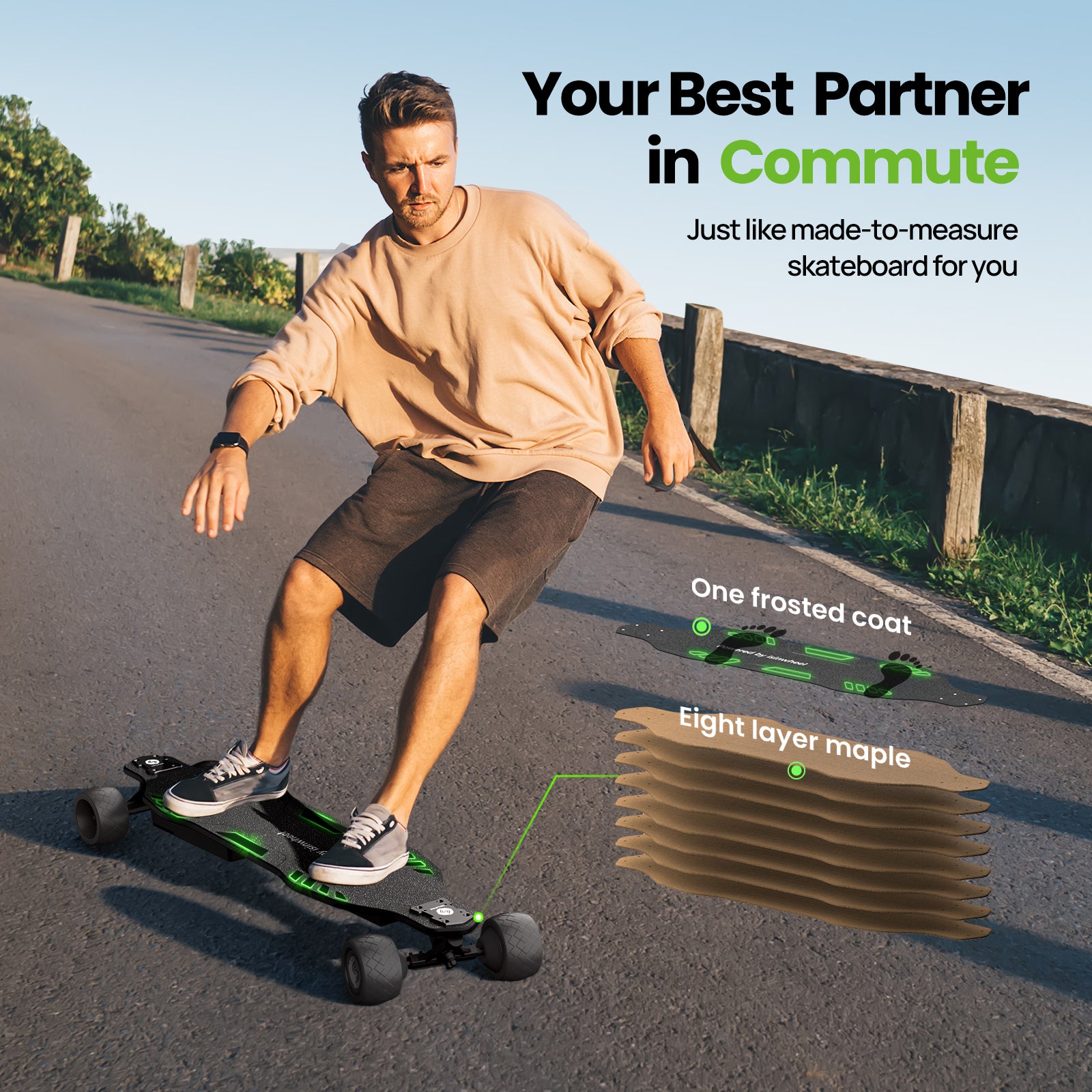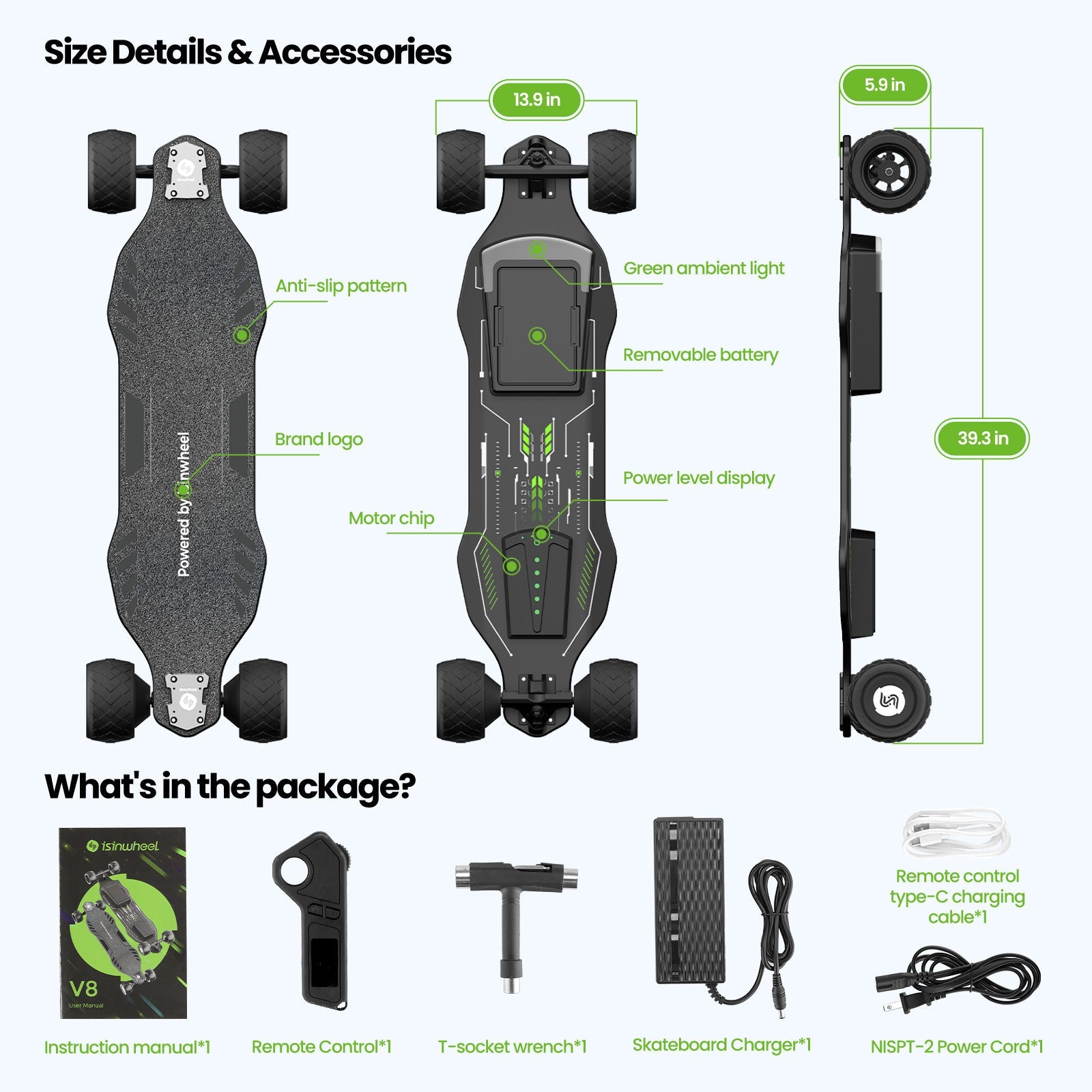 Isinwheel V8 Electric Skateboard with Portable Removable Battery & Remote Control
Regular price
$429.99 USD
Sale price
$429.99 USD
Regular price
$599.99 USD
Buy any 2 E-Mobility Devices Save 5% with code: SAVE5
Estimated Delivery:Sep 29 - Oct 03

Free Shipping: On all orders
Isinwheel V8 Electric Skateboard with Portable Removable Battery & Remote Control
Regular price
$429.99 USD
Sale price
$429.99 USD
Regular price
$599.99 USD
SPECIFICATION
Our V8 electric skateboard is equipped with 600*2 max capacity hub motors, which generates a top speed of 28 mph. And the removable battery supports a range of 12 miles. And the 105 mm wheel help you adapt accordingly to different situations like climbing hills, grass surface or riding inside the city.
Max Speed

28 MPH

Motor

600*2 Max Power

Battery

37V 5Ah

Range

10-12 Miles

Wheel Size

105 MM

Wheel Material

Aluminum alloy and PU

Maximum Climbing Angle

25°

Max Load

330 Lbs

Protection Class

IP54

Protection

Short circuits and overheating

Plate

8 maple

Charging Time

2.5 Hours

Gross Weight

24.4 Lbs

Net Weight

18.3 Lbs

Size

39.3x14x5.9 In

Lamp

12V

Remote

2.4 GHz

Capacity

5.0Ah
PACKAGE INCLUDED
SHIPPING INFORMATION
🚚Shipping- Free shipping on all orders to the United States, 2-5 business days delivery time.
💝 Return & Refund Guarantee- 30 Days Money Back & One Year Warranty.
📞Customer Support- Please email to support@isinwheel.com. Our experts will reply within 24 hours.
FAQS
Q: How long does it take to learn this? i want to use it for commuting?

A: Hi there,This electric skateboard is equipped with four-speed modes for two completely different groups of people. Whether you are a beginner or an e-boarder, you will be able to adapt to it perfectly. Please remember to wear a helmet for safety:) If you have any questions about using it, please feel free to contact us.
Q: What is the battery capacity and range?

A: The isinwheel V8 electric skateboard uses the same lithium battery as Tesla to ensure safety and endurance to the greatest extent. Generally, you can ride at least 12 miles, and the replaceable battery can extend skateboard endurance indefinitely. Hope it can help you~
Q: Is this easy to carry?

A:  All e-skateboards will be much heavier than normal boards, but my wife can easily pick up and carry it, hope this helps you. This one weighs about the same as the other boards and you can consider towing it. That's right:)
Q: How many accessories can I receive in this package?

A: This isinwheel V8 electric skateboard contains six separate accessories (the battery is installed): Instruction manual*1/Remote Control*1/Remote control type-C charging cable*1/T-socket wrench*1/Skateboard Charger*1/NISPT-2 Power Cord*1
Q: If the board runs out of battery can it be used loke a regular board?

A: One of the best features about this electric skateboard is how smooth it is as a regular board. I was extremely impressed and I didn't need to put extra effort using my foot to push off.
Q: What is max rider weight to ride this board?

A: The max weight is 330 lbs. I'm a big dude 6'3 and 253 lbs and I have no problem getting a awesome ride.
Q: Is this a fast charger?

A: Yep, this isinwheel V8 electric skateboard does NOT require any fast charging cable to be purchased separately. The accessories that come in the package are already the best configuration, buying all of the top accessories at once. 
 Q: How do I remove the limiter?
A: There is no limiter it goes 29-30 depending on body weight and wind and some other factors like aerodynamics, when just pulled off charge and going down hill I've gone 40mph and that's the most I've been able to reach.
Q: Does it only come with one battery for the skateboard? If so, how can I get the text's battery? Is it cheaper to get in on the actual website?
A: Yes one battery but the cool thing about this board is it gives the option to purchase an extra battery for $100 unlike most boards where the battery is built into the board.
Q:How long does it take to fully charge an electric skateboard?
A: 
Thank you for shopping with isinwheel. It takes about two hours to fully charge. In addition, the remote control charging cable is typeC charging port, which supports fast charging.
Q: How do go reverse? The manual has the reverse button but it does not work. It just changes the speed

A: Press the throttle button is based on the direction forward, if you want to back up change the direction and press the throttle button can.
Q: How do you turn on and off the light?

A: Connect to the remote control after power on, and long press the adjustment button of the remote control to turn on or off the light. You can also refer to the unboxing video: https://www.youtube.com/watch?v=MZian5k-Um0&t=7s

USER MANUAL
Get Some Inspirations
Great Customer Service & Skateboard
Very quick to respond on an issue I had. Great board & company would recommend!
Having a blast!
For $430, this eboard is def the most bang for the buck. Really well built. The big wheels is a big deal. Bought for my kids birthday. His buddy got one for Christmas. His pop told me they bought for around same price. The V8 is far better. Better build quality, faster by 8-10 mph, switchable battery, and the wheels absolutely makes for a more fun, safer experience. The other board you can only ride on the road and must be careful going over lil rocks n any kind of bumps, they can take you out. But the V8 just blast through. My kid will ride from the road through grass and gravel! So much fun n good exercise too. I've taken it out ever since we got it! 😁 Thanks you guys for putting out a great product!!
Reliable, Fast, Sturdy.
This board is my first electric longboard and it definitely did not disappoint. I was able to reach the advertised 30 mph on a downhill. The board is quick to charge and the battery lasts a long time before needing to be recharged. The green lights illuminate the darkness and are a rad cosmetic touch to complete the board. You get what you paid for.
Isinwheel v 8 eskate what a great product !
I believe you can't possibly get more bang for your buck. This thing has it all its really product to be desired highly recommend it...
The BEST Electric Skateboard
Please be advise that this review is going to be long. (Pictures and video to follow)
Let me start by saying I been reviewing electric skateboard for over several years and have a few of them. But this E-skateboard is different from all my previous skateboard and all the E-skateboard I try from different vendors.
1. This is a GREAT E-skateboard for price and for anyone at any level.
2. GREAT customer services compared to other companies with similar product in the market. ( Extremely important for me)
3. The construction quality of this E-skateboard way superior to other in the market.
( Let me be fair they were other 5 including isinwheel with the same level of contribution quality)
4. Having the option to replace the battery definitely a HUGE plus for buyers like myself.
(Please note that if you need to buy a extra battery you need to contact isinwheel support in order to email a link to buy the additional battery or any accessories that you need. Please make sure to include your order number in the email extremely important )
5. The wheels are made out of polyurethane in which I was really surprised how smooth they run in different terrain. Compare to other similar products in the market were they rubber wheels that don't last long.
( Don't recommend you to use the
E-skateboard in the rain because is really trick to break at any level.)
6. The Braking system is a standard similar to similar product in the market.
7. A features that this E-skateboard has the advantage over similar product is the built-in green lights under the skateboard for safety while enjoying it at night.
(Please note: Make to press on the button next to power button in the remote to active the light)
8. The wireless remote is pretty standard compared to similar products in the market.
9. The grip of the of top of the E-skateboard was very surprising.
(Really good grip surface for better handling as well as for breaking.)
10. The board has a unique futuristic look that match the green light under the skateboard.
Here my overall review of isinwheel electric skateboard. This skateboard is a GREAT product that any age group will love. Is also tons of fun that you wish you had that extra battery to keep going.
Pro:
• Really nice long board
• Really fast even if you weigh 251 lbs 🤪
• Very durable wheels and tall as well.
• Really nice grip on surface
• The option of buying a extra battery
• GREAT customer services
Con:
• I wish they had different colors.
• I wish the light can change in different colors.
Very Impressive Electric Skateboard
This skateboard is a lot of fun. We have several electric toys, scooters hoverboards and one wheels. This skateboard was fun in a totally different way than the others. It's a longboard and can be skated on without the power then hit the accelerator whenever you want. It definitely has some weight to it but not to heavy to carry. It has 4 speeds and they are needed. Speed 4 is very fast. I have gotten it up to 25 MPH and honestly, I do not want to go any faster than that. It does take a minute to get used to the throttle and brake. The brake also has settings 1 through 4. It will stop quite fast when needed. The best way to start for me is to push like a skateboard and once I get moving then hit the throttle. It will get me up a hill just fine and I weight 180 pounds. I really like that the controller has your speed and all the battery info on it. If you need to glance down when rolling it is very easy to. It is very comfortable and stable to ride. I would say the only negatives I ran across were that the wheels are a little hard. On a rough road it can be a rough ride. It does go over cracks in the road very nice though. I was curious if I would have to be really concerned about cracks and I didn't have to be. The turning radius isn't the sharpest when compared to a one wheel but that's just the nature of a long board. The power button on the bottom is a little hard to feel if you don't want to turn it over to power it on. The green LED lights are really cool at night though. I wouldn't have any problem commuting around town on this board. The battery lasts a while but a lot of that depends on how fast you are riding it. The battery is also removable, I guess you could purchase another if needed and swap them out. I did end up putting some soft Velcro tape on the battery because it does rattle a little on rough roads. Overall for the money this thing is a blast. Having all the power that you could want makes it a blast. I highly suggest wearing a helmet and wrist guards at the least.
Insenwheel V8
Isenwheel V8 board I tested with my SKYRC professional GNSS/GPS analyzer this morning 90-degree with 80% humidity in Florida got a true 29 mph . I was on the West Orange bike path so I really couldn't hold it wide open for that long because of people everywhere on the trail looking at me like I'm crazy! 😎 I know it's got more especially when the Fall and Winter Florida weather comes if you can call it that LOL. By the way the speedometer on the actual controller of the skateboard is way off it was show me going 45 mph 😲
4.9 stars
Excellent packing job, great product, easy to use and was up having fun soon after changing it up. I'm 260lbs and no issues at all.
Instructions are sparse. Even you tubed it. Turning on the light took days to figure out, and I think there's a reverse- but I can't figure it out.
First time EBoarder… I love this thing!
Never owned an electric skate board or even a long board for that matter. I snowboard and messed around on a buddies longboard skateboard a bunch growing up. That said, I've always been curious about electric boards. I did some research and this seemed to be the best quality for the cost. After having the chance to ride, it's honestly amazing. A bit of a calf workout but no more than snowboarding. Once you get used to the controls, it truly makes you feel like you are carving down an endless perfectly slopped hill on a regular longboard. The best part is that you don't need to walk back up after. I also loved the fact that you can treat this like a normal board and just coast after you pick up speed. Takes a minute to get used to the pick up especially at higher gears as well as trusting the brakes. Have to say though, I picked this thing up quick and I'd expect most other people would as well!