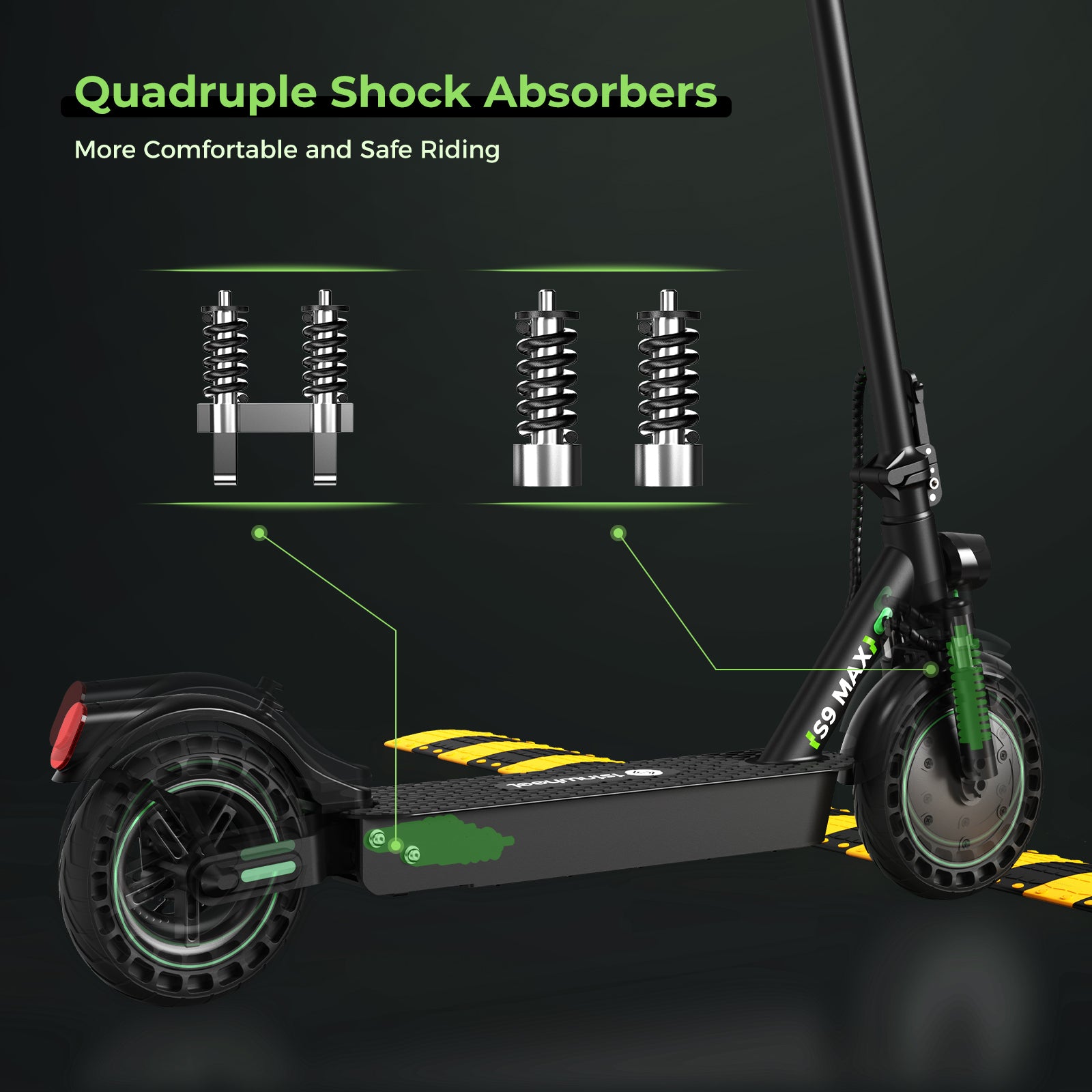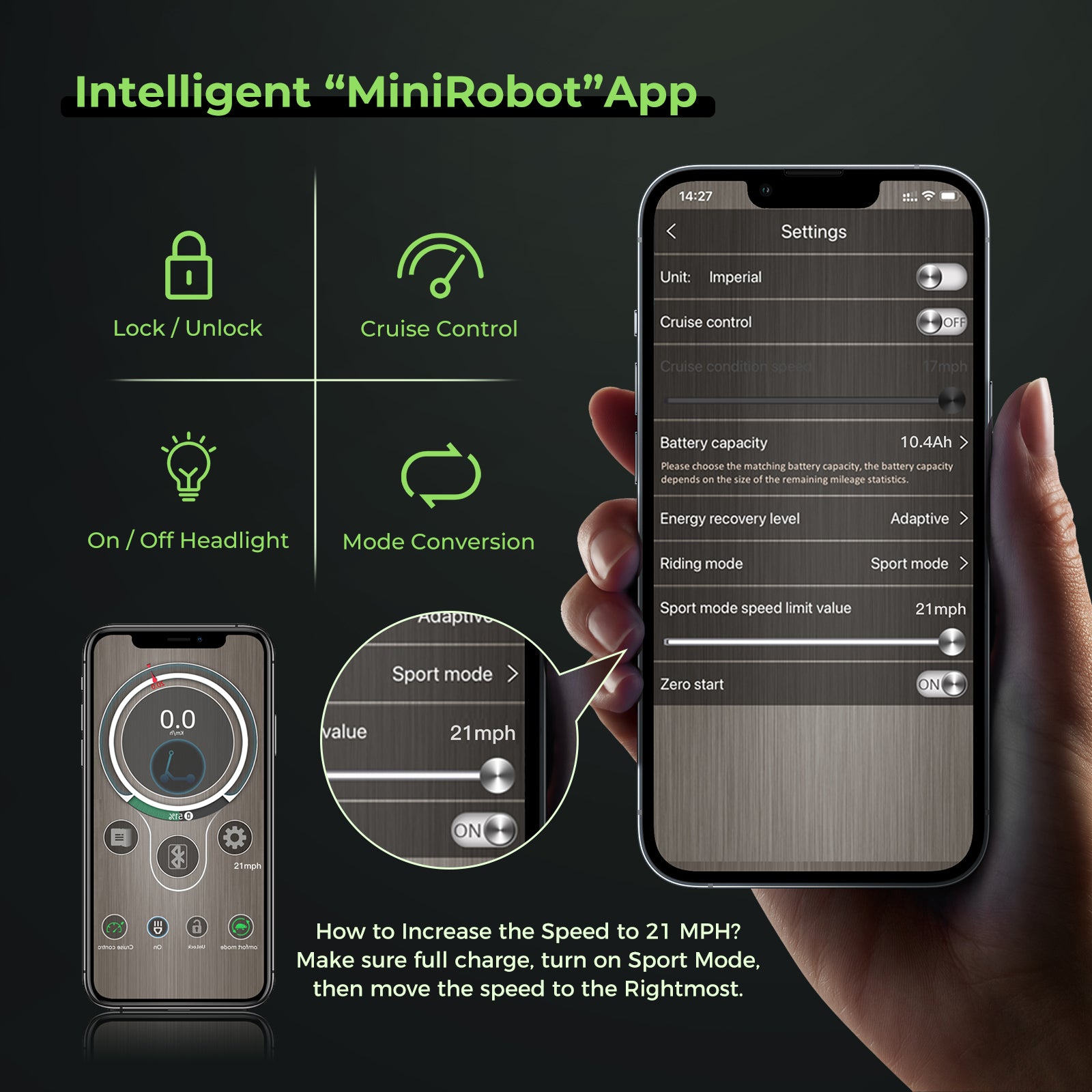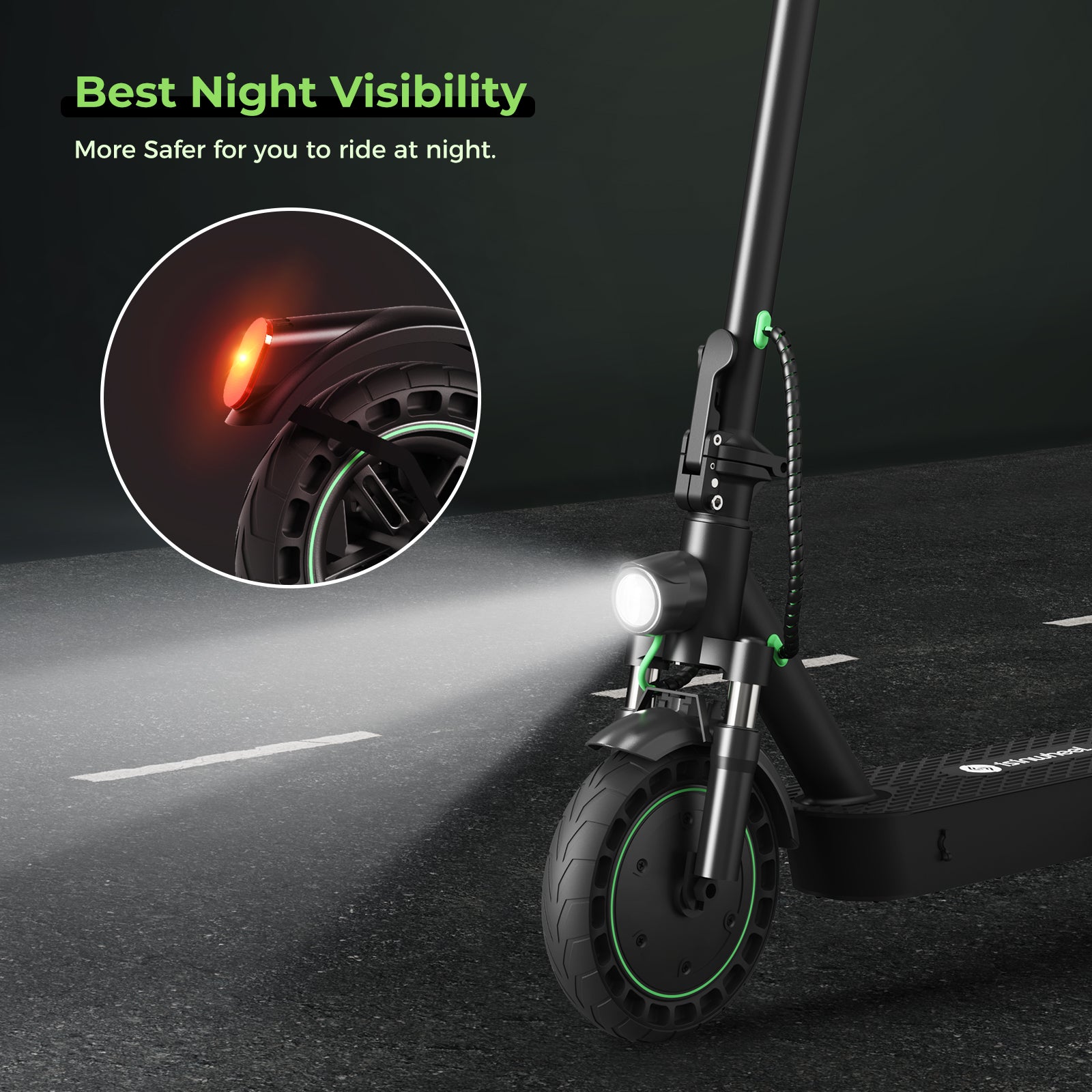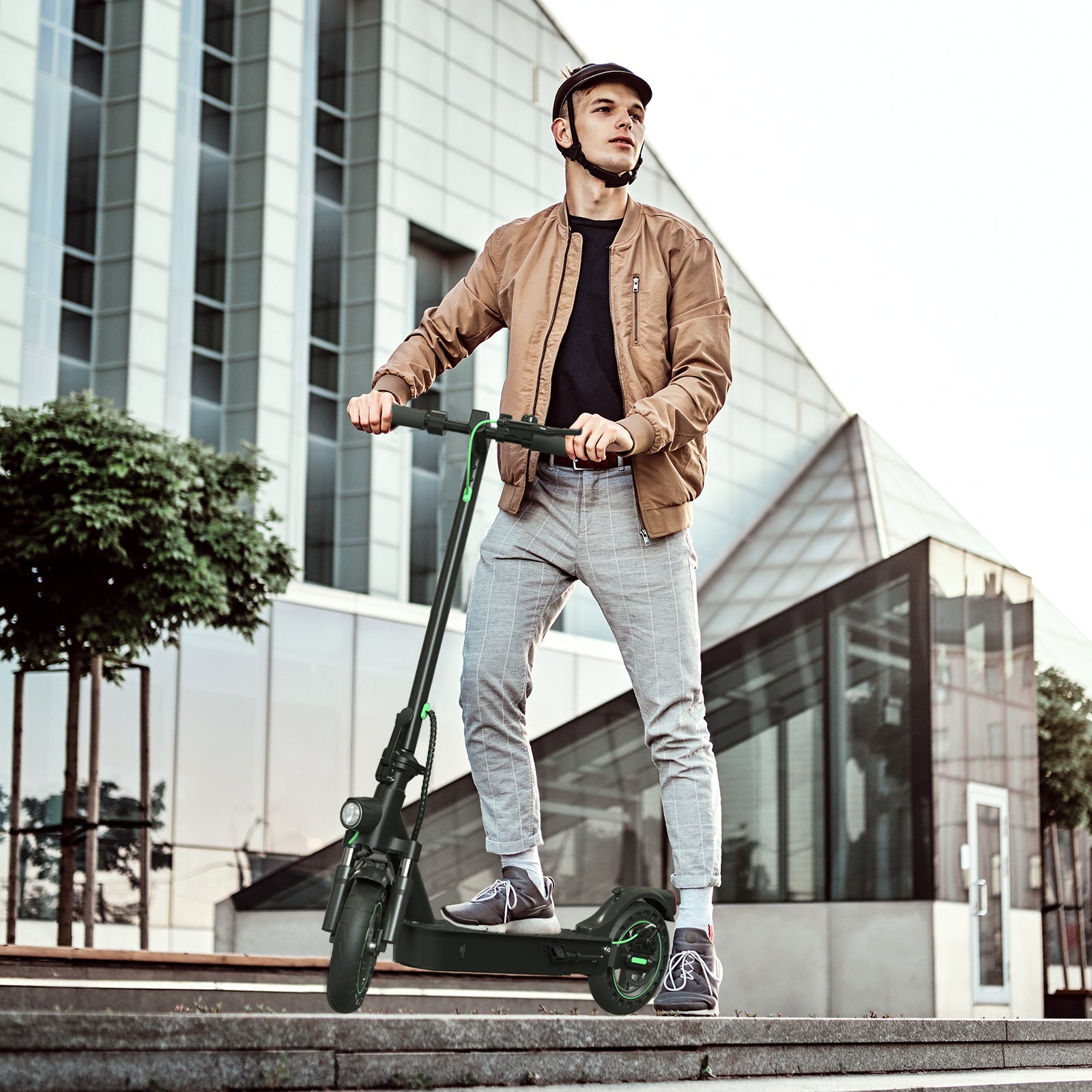 isinwheel S9Max 500W Upgraded Electric Scooter
Buy Two S9 Max Only $333 Each
Regular price
$369.99 USD
Sale price
$369.99 USD
Regular price
$599.99 USD
Get $10 OFF
Christmas Sale
2-3 Business Days Delivery
UPS/FedEx Reliable Carriers

Support Paypal/Affirm/ Credit Card/ Apple Pay Etc.

Buy Now, Pay Later, Free Installments

30 Days Returns Policy
One Year Warranty Service
S9max strategically selects the closest shipping Warehouse - be it in California, Texas, or New York - based on your delivery address, ensuring swift delivery of your electric scooter to your doorstep.
SPECIFICATION
Top Speed

19-21MPH

Range

19~22Miles

Battery

42V 10Ah

Motor

500W

Wheel Size

10 Inches Honeycomb Tire

Water Resistance

IPX4

Charge Voltage

100-240V/2A

Charge Time

4-6 Hours

Operating Temperature

14°F-104°F

Net Weight

34 Lbs

Folded Dimensions

45*17*19 inch/115*43*49 cm

Unfolded Dimensions

45*17*45 inch/115*43*115 cm

Climbing Ability

≤20%

Brakes

EABS brake + rear disc brake

LED Lighting

Headlight and Rear Brake Light

APP

Mini Robot

Max Load

264Lbs

Recommended Height

47.24~78.74 inch
PACKAGE INCLUDED
1 x Folding S9 MAX electric scooter
1 x Charger
1 x Scooter Bag
1 x Manual
1 x Quick Start
1 x Charging Cable
1 x T-Handle Wrench
4 x Stem Screw
SHIPPING INFORMATION
🚚Shipping- Free shipping on all orders to the United States, 2-5 business days delivery time.
💝 Return & Refund Guarantee- 30 Days Money Back & One Year Warranty.
📞Customer Support- Please email to support@isinwheel.com. Our experts will reply within 24 hours.
FAQS
Q: How about this adult scooter shock absorption?

A: The S9MAX adult electric scooter is equipped with dual front and rear shock absorbers with 10-inch solid tires, which can be applied to a variety of road conditions.
Q: Is there an optional seat available for S9Max?

A:  Of course, we can check the link below: https://www.isinwheel.com/products/adjustable-electric-scooter-seat-saddle
Q: Is the top speed setting permanent or do you reenter it with every powerup?

A: If the maximum speed you set for the last ride was 22mph, the next time you restart, the maximum speed will continue. You can use the app to connect the electric scooter to check.
Q: Does this electric scooter support USB phone charging?

A: We have USB holes at the handlebars so you can connect your phone and charge it via the data cable.
Q: What is the waterproof rating?

A: The waterproof rating for adult electric scooters is IP54, but we do not recommend that you ride in heavy rain.
Q: Are there lights on the scooter for night time riding?

A: The electric scooter is equipped with super bright headlights and oversized taillights.
USB Charging
The USB charging port on the
handlebars means that you can charge your phone anytime and anywhere
Smart App Control
Connect S9MAX with app
through Bluetooth to customize your max speed, cruise control, etc easily
3 Seconds to Fold
S9 max collapses for easy storage in car trunks and other compact spaces
Bright Headlight
You can see ahead and help vehicles know you're nearby with headlight, riding safely at night.
Get Some Inspirations
| | | | | | |
| --- | --- | --- | --- | --- | --- |
| | S9 Pro | S9MAX | M Series | GT2 | X3Pro |
| Motor Power | 350W | 500W | 800W | 800W | 1200W |
| Tires | 8.5 inch Pneumatic Tires | 10 inch Honeycomb Tires | 10 inch Off Road Tires | 11 inch Off Road Pneumatic Tires | 12 inch Honeycomb Tires |
| Maximum Load | 220 lbs | 264 lbs | 440 lbs | 330 lbs | 400 lbs |
| Product Weight | 26.4 lbs | 34 lbs | 48 lbs | 53 lbs | 55 lbs |
| Maximum Speed | 16 mph | 21 mph | 28 mph | 28 mph | 28 mph |
| Maximum Range | 18 miles | 22 miles | 25 miles | 28 miles | 37 miles |
| Suspension Type | | Front & Rear Dual Suspensions | Front & Rear Dual Suspensions | Front & Rear Dual Suspensions | |
| Driver | Front | Front | Rear | Rear | Rear |
| Waterproof | IPX4 | IPX4 | IPX4 | IPX4 | IPX4 |
| Support APP | ✔ | ✔ | ✔ | ✘ | ✘ |
| Scooter Bag | ✘ | ✔ | ✔ | ✔ | ✘ |
| Price | $339 $239 | $459 $359 | $799$599 | $999$699 | $999 $749 |
Nice quality and performance
Great scooter, nice solid build quality, 500W motor is strong and the app works great. Fairly light to mount on the wall with some garage wall hangers
Super scooter
excellent scooter reaches a speed of 20 miles per hour without any problem, I bought 3 and right now I have them recharging
Great Scooter
The Scooterworks fine!!!! I would recommend the Isinwheel Scooter !!! As a matter of fact, I did recommend the Scooter to people who saw me using the Scooter and wanted to know if I liked the Scooter !!!! I said yes and told them they could purchase the Scooter directly from Isinwheel. I would like to purchase a battery for my scooter , I like the idea of having an extra battery
Super scooter
For the price and power that the scooter has it's great
I weigh about 165 lb and it does roughly 18 to 19 miles per hour so it does get its speed
But I don't need speed I just need to go from one place to get to the other if you want speed I mean where a helmet where the helmet all the time you know but for me it's just getting to one place to the other safely
The charging is pretty fast the battery is last long and it's light easy to carry and fold up when you're riding the bus
A great feature was that little bell because when you're going on the sidewalks ankle aren't looking behind them that Bell really works and they get out of the way
Light features are also great especially the back brake lights
It also looks pretty cool I mean I'm 52 years old I used to ride skateboards back in the days but I just needed only at maybe an hour or so just to get used to writing again
Go to save you so much walking when I try to go from bus to bus or I'm trying to catch a bus now I don't have to run after it I can use this and catch up to the bus easily
Thank you guys for creating a wonderful great scooter and I hear that the customer service is excellent but I haven't had to use them yet but I probably will but thanks again
Just would like to know how long the battery will last and if it's replaceable and how you do that that would be a great question to answer anyways I endorse the scooter and compared to other ones that are a lot higher price this is really good
Best scooter I have ever owned
Really great scooter lots of fun to ride I hope to get partnered up with isinwheel would love to get other scooters to keep ride and review would totally be worth it
All as described! Highly recommended Scooter!
I am happy with it all around!
Using it daily to got to work 20 mins there and 20 mins back, charging. It only every three days!
Very comfortable to use! Breaks sre brilliant!
Reslly good quality build! Highly recommend this scooter!
Good value for money
I have put +450 miles on this scooter over the last six months. It holds up pretty decent. Some bolts near the suspension mounting came loose so try not to lose them. Other than that it is a great value for money for a budget transportation around the city. And it's fast. I have been faster than all the other scooters on the road so far
Best scooter ever hands down!!!!!
Amazing scooter , works as advertised ,also the customer service is great too,responds promptly and very courteous.The app allows you to adjust your speed .I would always buy their products.highly recommend this scooter for anyone looking to commute in a reliable way
Great scooter for the price
I was really surprised at the power behind this to where I did not even drive it at max due to how scary it first felt, really like your first time riding a bike. After 10 minutes I took it to 20mphs.
Handles bumps, cracks, and gravel at ease. Also it folds up really easy, as well as the seat, able to carry around one handed.